What is Harness ?
Founded in 2016 by the creator of AppDynamics (sold to Cisco in 2017 for $3.7Bn) and the DevOps director of Apple. Harness offers a solution in the Devops – CI/CD domain and helps its customers accelerate application time to market, cloud and microservices (kubernetes,…) adoption and development team productivity, while providing a full toolset of features to optimize Governance, Security and Costs.
The JEMS + Harness offer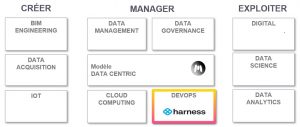 It is the first Cloud and/or On Premise platform to integrate modules to manage CI, CD, Feature Management and Cloud Cost Management processes, with ML/AI for maximum automation. Customers can use and pay for the entire platform or each module independently.
Improve Developer Productivity and Experience: Reduce Build/Test cycle times by 35% with unique Test Intelligence functionality
Improve application Time to Market and Harness CD quality of service: Reduce deployment effort/time by 70-90
Save up to 30% (production) and 70% (test, staging, QA, pre-prod) on spending on public clouds (AWS, Azure and GCP)
Want to know more? Discover our offers!