What is Microsoft Azure ?
Microsoft's Azure cloud platform is a hosting and services offering accessible through APIs on the https://portal.azure.com web portal. The Azure cloud platform has more than 200 products and services of type IaaS and PaaS. It includes Webapps, virtual machines and storage accounts. Azure enables you to create cross-platform mobile experiences, drive innovation for existing and future applications, or create scalable websites and web workloads.
JEMS integrator Microsoft Azure
JEMS is now a Microsoft Solutions Partner for Data & AI (Azure). We are therefore now identified as a specialist partner, committed to our customers' Delivery Customer Success, and able to provide trained and certified resources.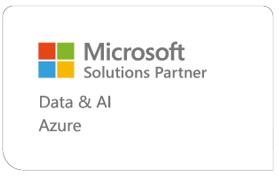 Requirements for Solutions Partner designations are measured by performance, skills and customer success. In this respect, we have demonstrated real technical expertise in various components. These include :
Data modernization (in PaaS environment);

Hadoop to Databricks migration scenarios;

Implementing a Data Catalog type of data governance with Azure Purview ;
We will thus find Microsoft within the JEMS data patrimony offer:
« JEMS is recognized within the Microsoft Partner Network as providing market-leading solutions that have undergone a rigorous customer validation process »
Our Microsoft experts
JEMS continuously certifies its consultants to the latest Microsoft technologies. Among our experts we find :
Azure Solution Cloud Architect – AZ305
Azure Developer Associated – AZ204
Azure Administrator Associated – AZ104
Azure Data Engineer Associated – DP203
Data Analyst Associate Power BI – DA100
As well as Azure Synapse Analytics and Azure Purview expertise.
Discover customer cases
CEGID

– [Azure DevOps] – [Synapse] – A new data service for thousands of accountants;
 TURAS –[Azure DataFactory] – [Synapse] – [Power BI] –Improved toll management with cloud computing;
 CANAL DE PROVENCE – [Azure Datafactory] – |PurView] –Creation of new services in the delivery of water;