What is Matillion ?
Matillion is a data transformation (ETL) solution for cloud-based data warehouses.
Matillion's solutions provide a true end-to-end data transformation solution. Matillion provides an immediate experience to get you up and running in just a few moments with a pay-as-you-go model to avoid time-consuming purchasing procedures and an intuitive user interface to minimize technical difficulties and speed time to results.
Matillion is available worldwide for Amazon Redshift, Snowflake and Google BigQuery on leading cloud infrastructures.
JEMS integrator Matillion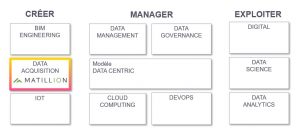 As a cloud and big data solutions integrator, JEMS can help companies use Matillion ETL for their data integration, consolidation and transformation projects. JEMS helps customers select the most appropriate technologies and then works with them through all phases of the project, from requirements gathering to implementation. JEMS also has a strong network of partners, including cloud platform providers such as Amazon Web Services, Google and Microsoft.
Don't go it alone! JEMS can help you use Matillion ETL to quickly extract maximum business value from your data.
Want to know more? Discover our offers!