What is Teradata?
Teradata is the provider of the connected multi-cloud data analytics platform. Our company-wide analytics solutions address end-to-end data challenges across industries. Only Teradata gives you the flexibility to manage the massive and mixed data workloads of the future today.
The JEMS and Teradata offer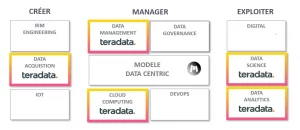 Teradata Vantage is the hybrid, multi-cloud connected platform for enterprise data analytics. It simplifies the ecosystem by unifying analytics, datalakes and datawarehouses. With Vantage, large companies can eliminate silos and cost-effectively query all of their data, all the time, from anywhere – in the cloud, in multi-cloud and/or on-premises environments – to gain a complete view of their business.
Want to know more? Discover our offers!