What is Semarchy ?
Semarchy is a data acquisition and reference data management solution.
In 2021 Semarchy acquires Stambia and renames its data integration module Stambia Data integration and Semarchy xDI
The JEMS and Semarchy offer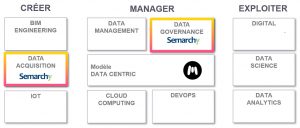 JEMS has developed its expertise in data acquisition and MDM with Semarchy/Stambia for several years on the 2 flagship offerings:
Semarchy xDI: addresses all types of data integration needs (batch ETL/ELT, big data, data lake, real-time/streaming, data hub, API/web services) with the same development interface and technical architecture
Semarchy xDM: allows you to create various data repositories in the same tool
This allows us to meet the needs of our customers such as:
For xDM: to set up a datawarehouse between different entities with non-convergent repositories
CTO: to use during a merger or acquisition of new applications.
What are the skills at JEMS?
Experts Semarchy xDM certification
Expert ex « Stambia DI plateform » now Semarchy xDI
Experts JEMS on « Stambia for big data »
Additional resources
Customer Story – A Data Centric approach at CEA-LETI
Case study – Reference data management in agriTech at Axéréal
White Paper – Which real-time strategy for a data platform?
Want to know more? Discover our offers!