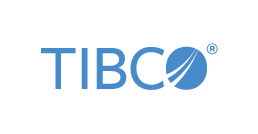 TIBCO Software was founded in 1997. TIBCO's software has made automated, real-time interactions in the financial markets possible. Over the years, our company has innovated and expanded into new markets
JEMS and TIBCO: a strong partnership!
At JEMS, we have been a partner with TIBCO since 2018. Together, we have worked on many successful joint solutions (such as the data management platform and third-party product repository) in verticals such as banking, pharma, retail, logistics, automotive and agritech.
Joint customers include BPI France, BNP Paribas Leasing Solutions, Servier, Lagardère, Geodis, Groupe Renault, Micropep and RAGT. TIBCO is a global leader in enterprise data, working with 21 of the world's top 25 companies.
With TIBCO's Connected Intelligence, we provide automated processes to quickly retrieve, cleanse, consolidate, normalize, and deploy data to ensure a consistent and reliable data architecture, thereby reducing the customer's time to market.
TIBCO and the JEMS offer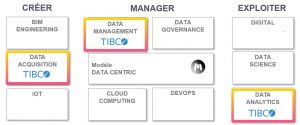 TIBCO's offering fits perfectly with the JEMS industry approach:
Data Acquisition: with TIBCO Cloud integration and TIBCO Cloud API management
Data management: with TIBCO Data virtualization and EBX Software
Data analytics: with TIBCO Spotfire
Additional resources
Customer Story – Mapping data and uses for BPI France
Case study – SINAPS repository in the pharmaceutical industry with AMUE
Case study – Visualization tool for commercial resources at RENAULT
White paper – ressources at TIBCO
Want to know more? Discover our offers!