Cloudera is an American company founded in 2008 and specialized in big data solutions based on the Hadoop framework. After the acquisition of Hortonworks, the company reoriented itself in the cloud to offer its data platform dedicated to storage, management and analysis of data: Cloudera Cloud Platform (CDP)
The JEMS and Cloudera offer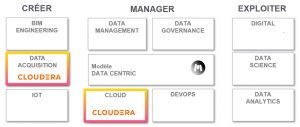 Cloudera Data Platform is a platform for unified and hybrid management (On Premise, public or private cloud) of big data infrastructure. It is aimed at both IT departments and business. CDP consists of 3 main components
Cloudera Data Warehouse to easily deploy self-service data warehouses for analysts
Cloudera Machine Learning, to deploy collaborative Machine Learning spaces
Cloudera Data Hub is a Cloud-Native data management and analytics service
What skills does JEMS have?
JEMS is an expert in Big data technologies. Our engineers are well versed in Hortonworks and Cloudera technologies, development architectures, and how to set up data processing.
Additional resources
Case Study: Creating a Cloud Platform for the Automotive Industry – CONFIDENTIAL
Want to know more? Discover our offers!