Snowflake is a US company based in California and founded by 2 Frenchmen in 2012. It publishes and distributes the first Cloud Data warehouse platform which was officially launched in October 2014.
Snowflake has created a unique patented architecture that combines the performance of a data warehouse and the flexibility of the Cloud in SaaS mode.
The JEMS offer and Snowflake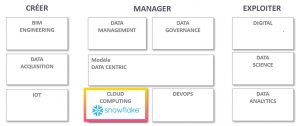 Snowflake offers a Data platform in SaaS mode in the Cloud.
This Cloud agnostic architecture is based on 3 layers: the data storage layer, the computing layer and the services layer.
The SNOWFLAKE architecture is fully integrated in the JEMS Cloud Computing offer.
Our Snowflake experts
JEMS consultants are trained to master all aspects of the Snowflake architecture: ETL, database and online analytical processing. In particular, we have certifications on:
SnowPro Core
Sales Pro
Technical Sales Pro
Additional resources
Customer Story: Improving the product quality of animal nutrition in the cloud for ADISSEO
Customer Story: Migration from an existing cloud to the Snowflake cloud – SAVENCIA
Customer Story: Optimizing beet collection for TEREOS
Customer Story: A new data service for thousands of accountants for CEGID
Want to know more? Discover our offers!