Jacques Benhamou, president of JEMS, and Alexis Uzan, VP partnership, are interviewed by BFM Business to know our point of view on the data. In 4 questions :
What do you think is the major challenge of data?
Data is at the heart of the industrial revolution we have been experiencing for the last ten years. As an example, the president of Renault, Luca De Meo, explained that he was going to set up a new department in which services based on data would account for 30% of his turnover over the next three years. Data is disrupting markets and, with the help of Google, JEMS is a key player.
What is the impact of this new Google Cloud region in France for JEMS?
It's great news. It responds to a real demand from the entire market, especially from French manufacturers. It solves the problems of legislation and therefore allows us to develop the "move to cloud" for many of our customers. It's also an extraordinary opportunity for France to emancipate itself.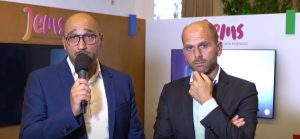 What is the potential use of this trusted cloud offering?
All business sectors are concerned. It's true that industry – and in particular the military industry – is much more interested in switching over, as the alliance with Thales provides greater security and guarantees, but all business verticals will be considered.
What are your news with Google Cloud?
In the space of six months, we have become a Tier One reseller, Google Premier – which is the most exclusive status in the partner relationship – but also a "Data Analytics" specialist. This reinforces our delivery, our common know-how on current and future joint projects.

More information