Thursday, January 27th – 11:00 am
Come to our webconference with CLOUDERA to learn all about the migration to the new CDP platform
---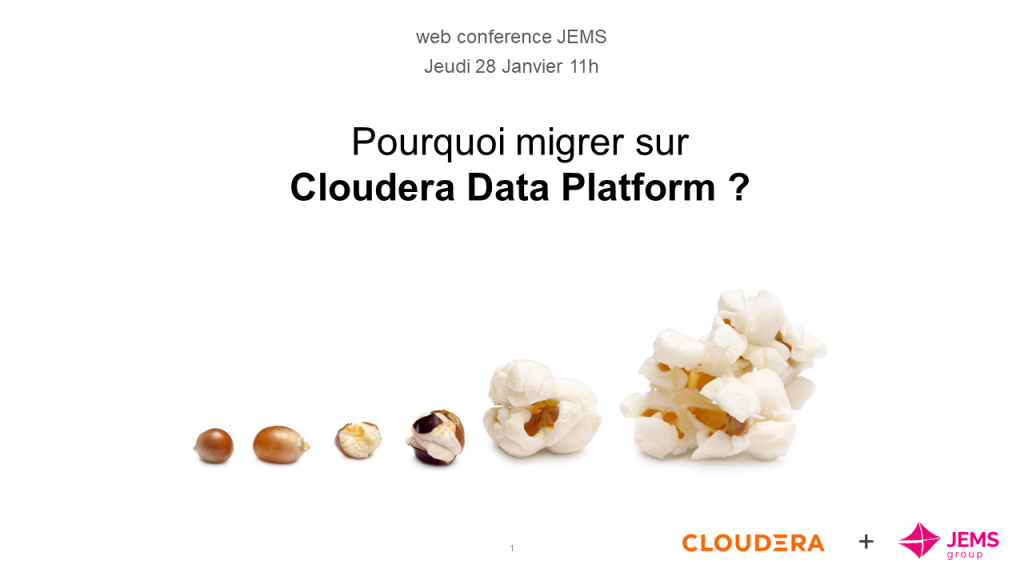 ---
The Horton Data Platform HDP3 products and the CDH5 open source distribution reach end of life in January 2021. That's today. And unlike COVID-19, we know exactly what that means: end of security patches, end of support, abandonment of projects, loss of support for other software in the IS ecosystem, etc. It is therefore essential to migrate as soon as possible to the new Cloudera platform : Cloudera Data Plateform.

BUT:
Don't know how to do it?
You wonder if others have tried it before you?
Are you curious about their feedback?
Come join us to learn all about this migration! We will explain in detail the advantages of Cloudera Data Platform versus HDP. JEMS as an expert integrator of CLOUDERA technologies will detail the best way to achieve this migration.
IN THIS WEBINAR YOU WILL LEARN :
The benefits of the new platform
The right tools to put in place for the migration
The methodology to succeed in the migration
We look forward to seeing you there!
Cliquer ici pour voir le replay